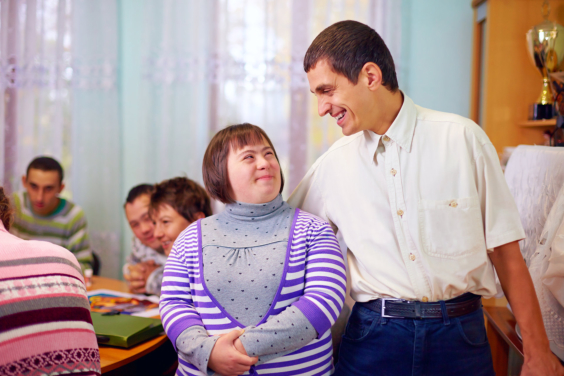 It is our goal as a provider of Habilitation Services in Indiana that every person with developmental and intellectual disability will have an opportunity to live and thrive just like every one of us. We believe that with the right assistance and support, they can be independent, face other people sensibly, and become productive in their own unique way.
If you have a loved one with developmental or intellectual disability, take it upon yourself to expose them to opportunities such as residential and community-based habilitation. Whether for short-term, so that you can get some respite, or for long-term so they can build up their individual personalities, the habilitation environment can be ideal for them. Consider the following benefits:
Promotes Inclusion
In our community-based habilitation services, we recognize that every person deserves to play their role in the community. When they are engaged with different community activities, other community members also get to recognize that there is no barrier between groups of people despite physical or intellectual limitations. When there is inclusion, there is also more love, harmony, and peace.
Practices Rights of Persons with Disabilities
Our community-based Support Service in Indiana is provided to promote and practice the individual rights of persons with developmental and intellectual disabilities. As fellow human beings, they also have the right to enjoy, explore, and learn alongside us, so they can be the best person that they ought to be. They deserve it.
Promotes Independence and Integration
The settings and programs in a community-based habilitation are designed to practice and enhance the participant's independence. They will be provided with trainings and activities that enable them to live on their own, so that, even without their primary caregivers, they can still carry on with their daily activities. Because we are staffed with experienced and compassionate Home health care providers, you can also have peace of mind about your loved one's wellbeing.
Provides Education to Person and Families
The inclusion in a community-based setting is also education both for the person with disability and their families. They will learn further about the many exciting opportunities available for their loved one and how they can properly relate with them in a more loving and nurturing way.
Place for Recreation and Respite
Because we also provide Respite Services in Fort Wayne, Indiana, family caregivers can also have the opportunity to rest and relax while their loved one is under our care. Our recreational programs are ideal for persons with developmental and intellectual disabilities so that, when you are ready to provide care again, your loved one also had a fruitful experience.
Always know that caring for a loved one with disability is not a one-man show. Don't hesitate to seek help and assistance in the right avenues. At Beloved Shepherd LLC, you can trust that the assistance we provide is always focused on meeting the unique needs of your loved one's developmental or intellectual disability.