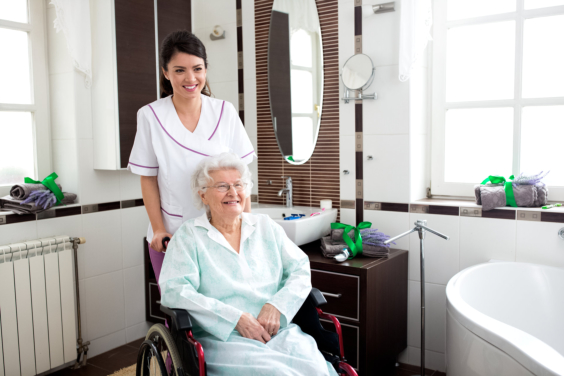 Here are tips for you!
Being able to brave through a first-time disability is not just dependent on the patient's willpower. Their family members and friends can also empower them to win over the challenges at the initial phase of their disability. Persons who use wheelchairs for the first time will need adequate assistance and support service in Indiana. The first line of support comes from immediate family members.
When your loved one is a first-time wheelchair user, then you can be designated with the honored role of being a wheelchair pusher for the first time. When this is your case, adjusting to the need may be uncomfortable, but here are tips that can help you manage.
Be Mindful of Walls or Objects Ahead
When you're pushing your loved one's wheelchair, remember that they're the ones ahead of you. If you're walking with a crowd or anywhere, be careful about bumping someone ahead or hitting an object that you haven't checked earlier. This extra care can keep your loved one in a safe and comfortable condition.
Talk Gently
As you assist your loved one on a wheelchair. Always ask their permission FIRST. Avoid assuming that your loved one would love to go to a place where you also want to go. Ask for what they want so that you can get to your destination in a better situation. When you need some backup, our team providing respite services in Fort Wayne, Indiana is ready to step in for you.
Be Careful on Sloping Pathways
When pushing a wheelchair, take note of the paths you're taking. If you notice that these are sloping areas, firmly hold the wheelchair to avoid it veering to the lower side. This can be risky when the sloping area is near a driveway.
Consider Going Backwards
In some instances, going backward to get through your destination is easier and more manageable to accomplish. This is applicable when you're about to go over bumps, on sloping areas, or through heavy doors. This is also easily achievable when the wheels are large.
Obey Your Loved One
Always pay attention to what the person in the wheelchair says. After all, it's their comfort and wellbeing that are at stake when the wheelchair is improperly pushed. When they tell you to stop, stop pushing. This can enable them to also enjoy your company.
Stay Along Checkout Lanes
Keep your loved one in line with the checkout lane when you're in a store. When you're not mindful, you might have pushed them too forward and past the desk.
What do you think about these tips? As providers of habilitation services to individuals on wheelchairs, we hope that you find these tips helpful for your initial experience as your loved one's assistant. When you also need extra hands to back you up, feel free to contact our team at Beloved Shepherd LLC. We'll be here to lend a hand.
If you find this post helpful for a loved one, click SHARE!